Horror films have been around since the dawn of film-making and have delivered some classics. Amongst them, some really crazy shit showed up! I prefer to focus on that in my final M.B. blog before October's holiday. Enjoy!
12. Maniac Cop: Who would dare mess with a zombie cop? A famously-tough cop is falsely convicted of a crime and sent to jail. Inside, he is attacked in the shower and stabbed numerous times. His body mysteriously goes missing and, a year later, numerous criminals are killed by a man in a cop uniform. He is not dead, - we never learn how- although he is a bit deformed, and wants to get revenge…or kill lots of people. Whatever works for you, I guess.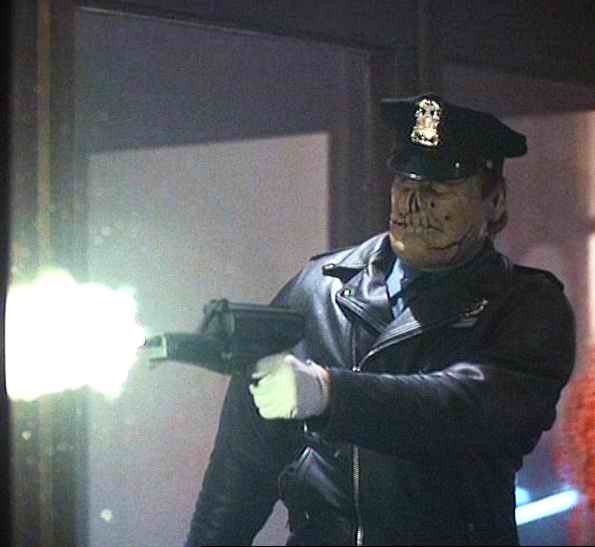 11. Sleepaway Camp: History makes this out to be a lot better than it is. The kids at a summer camp are being killed systematically by a stranger. Stop me if you have heard this one. Eventually, the killer is revealed to be the shy girl who was the torment for abuse. No surprises here. Here is the reveal: that chick is a dude! This 'crying game' was shocking, making this a cult film. In the sequels, the dude is now a real chick. Thanks for missing the point, writers.
10. The Phantom of the Opera (1989): If you're going to pick one time-traveling version of the classic 1925 silent film, pick this one. While auditioning for a role in an Opera, a young woman is hit on the head and wakes up in 19th Century London. What follows is a loose adaptation of the book, albeit with Robert Englund killing people who get near the object of his stalking. There is a whole subplot involving an explanation of how his character sold his soul for musical success, but lost his looks. As a bonus, the third act turns even stranger than anything that precedes it. See for yourselves.
9. Giant from the Unknown: This is definitely up there with one of the most curious concepts. A group of archeologists uncover a frozen body up in the woods. It turns out to be that of a displaced Spanish warrior known for his ferocity and large size. He gets loose and begins a rampage of sorts. Other than his unique background and attire, he really does not do much that distinguishes him though. He also never speaks, apparently proving that all Spaniards are mute. That or the writer was lazy.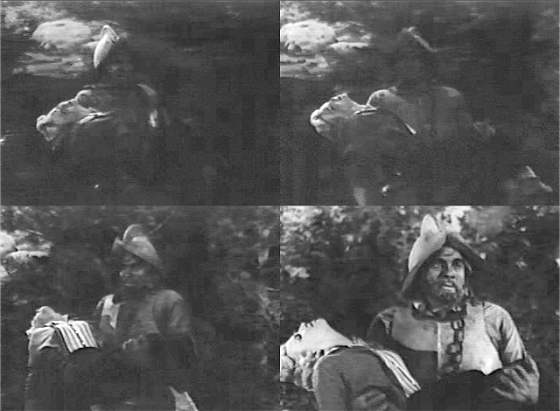 8. Blood Freak: Yeah, this one is quite weird. As you may know, a man's head turns into a giant turkey version after eating experimented-upon meat. His drug addiction leads him to kill hippies and drink their blood. I don't know what more I can say. Should I wonder why they have a turkey drink blood? Why only his head transforms? Mostly, I should mention that the whole thing is a dream. I hate it. If any of it had been real, this would be #1.
7. Crimson Rivers 2: Angels of the Apocalypse: This one is a challenge to make it seem plausible. Hooded figures with insane endurance and a near-numbness to pain are killing people dressed and acting like Jesus' Apostles. One of them is shot about twenty times- even losing most of a hand- but he can still run faster than a car. This is what happens when you use 'super methamphetamines.' They are also driven insane by this, though the heroes are not when they use it in the end. Good continuity there, movie.
6. Black Cat: At this point, you are expecting some really weird twist, huh? The killer in this film- which has no relation to Poe- is a cat. A cat possessed by a vengeful spirit, but a cat nonetheless. Showing a skill not seen since Frogs, it kills many people using subtle object manipulation and Rube Goldberg-like scenarios. This film by Lucio Fulci- of Zombi fame- is a real curiosity that weirdoes like me should enjoy, not that it's all that great.
5. Jason Goes To Hell- The Final Friday: As the 9th film in the series, something strange really had to happen. The film begins with Jason Voorhees being blown to pieces, but only gets weirder from there. He is now some sort of spectre that can possess bodies via transfer of some big ugly worm inside of him. In addition, the film introduced a sister and her family, who became important. Why? Because the only way for Jason to be reborn in his old body was to possess one of them. In addition, only one of them could kill him. Guess which one happened?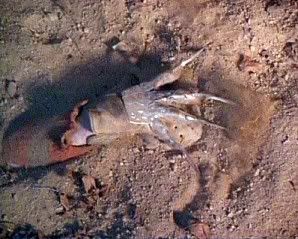 4. Two Thousand Maniacs: Why settle for one killer when a whole town is available? The town of Pleasant Valley is celebrating the bicentennial with a group of visiting Yankees. The new folks soon learn that they are meant to be sacrificed as part of a long-standing revenge scheme. The town was burned and sacked by Northern troops in 1865, but will return every one-hundred years to punish those deemed guilty. Look for their return in about fifty-six years. Oh, and the South will rise again. Sorry, I am required by law to say that.
3. Monkey Shines: A George A. Romero film makes the list despite having no zombies in it. This underrated and quirky film is about a young man who has to adjust to life after an accidental paralysis. His friend gives him a helper monkey, but this guy has had some shit done to him. He has been injected with human DNA and is gaining enhanced intellect and a penchant for evil. Anyone that gets between him and his master gets the axe. The monkey also has a psychic link with the man...which makes no logical sense. On the plus side, the best friend from Mad About You gets injected with poison by a monkey. Good times.
2. The Wizard of Gore: No matter which version you watch, it is just plain weird. To put it simply, a stage magician hypnotizes women, pulls them on stage and does horribly-mutilating things to their bodies. They emerge unharmed though, - don't ask- only to be found dead the same way later. Somehow, this baffles the police in 1972. The 2007 version attempted to explain it, but really only made things worse in the process. The one upside: Jeffrey Combs plays a carnival geek that looks like mid-90s Rob Zombie. Talk about your interesting casting!
1. The Abominable Dr. Phibes: This is much more about his style and flair than anything else. Holding a grudge for five years, the good Doctor returns to kill the doctors he blames for not saving his wife. He bases his killings around the Ten Plagues of Egypt, making even the trickier ones work. He sort of loses focus later when he kills people just because they are in the way or see him. In spite of this, he is the killer of my dreams. No, I don't mean that in a gay way. I also don't mean Freddy Krueger, who is the killer in my dreams.
That's all the crazy horror leads that I can take, quite frankly? These guys are just too strange. Oh and Happy Halloween!
For more reviews like this, check out my personal blog. It has more vegetable content than ever!
Up next, a look back at some film-to-TV adaptations that have been forgotten. Stay tuned...