Blogs
TGWTG's Community Blogs.
The Dark Knight makes his big-screen debut in Columbia Pictures's Batman, the first of two 1940s serials starring the Caped Crusader.
In my review of
The Adventures of Captain Marvel
, I gave a brief overview of the serial genre as a whole, so I'm not going to do that here. Although a number of studios were involved in the production of serials, the three most prominent were Republic, Universal, and Columbia, each with their own claim to fame. Republic's tended to have the best scripts and fight scenes, Universal's were more plot driven and boasted impressive production values, and Columbia's are infamous for their really low budgets, even for a serial. Columbia's Batman serials had the misfortune to be made after the studio's corner-cutting policy was instituted, but it didn't stop them from being quite popular.

While a majority of serials played fast and loose with the origins of various comic book heroes they adapted (I again refer you to my Adventures of Captain Marvel review), the Batman serials were pretty faithful to the source material. The first serial also had some influence on the Batman comics, giving us the Bat-Cave and led to a redesign of Alfred's appearance. (Originally portly and clean-shaven, Alfred was slenderized and given a bit of a mustache after this serial's release in Detective Comics #83 - explained in-universe as the result of Alfred visiting a fitness camp.) That being said, there were a few deviations. Batman has some vague association with naval intelligence, which is never fully explained, that he didn't have in the comics. The Batmobile, already established in the comics by this point, was replaced by a regular car, and instead of Commissioner Gordon, Batman and Robin interact with police Captain Arnold (Gordon had been around since Batman's debut in Detective Comics #27, and Captain Arnold's never shown up in any Batman comic I've read, so I have no idea what the deal is with this guy).
On the million-to-one chance you know nothing about Batman (I make no assumptions about my readership), here's a VERY quick summary. Created by writer Bill Finger and artist Bob Kane, Batman made his debut in the pages of Detective Comics #27 in May 1939. His origin was revealed in Detective Comics #33 - as a child, Bruce Wayne is orphaned by a mugger and vows to dedicate his life to waging war on crime. He trains his body to physical perfection, becomes a master scientist, and adopts the image of a bat in order to strike fear into the hearts of criminals everywhere - and thus is born The Batman. Detective Comics #38 (April 1940) introduced his sidekick Robin, a young circus acrobat whose parents are murdered by criminals as part of an extortion scheme. In the spring of 1940, Batman got his own magazine, the first issue of which introduced two of his most famous enemies - The Joker and Catwoman. Batman and Robin would spend the next seven and a half decades waging war on criminals of every stripe and a wide range of freakish enemies in comic books, video games, television and animated shows, and of course, film. (This Wednesday, July 23rd, is being celebrated as "Batman Day" in honor of his 75th anniversary.)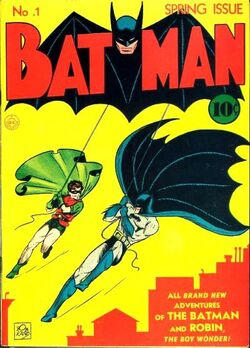 As World War II rages across Europe and Asia, Batman (Lewis Wilson) and Robin (Douglas Croft) have been fighting crime for some time by the time the serial begins, and they face a new enemy - Dr. Tito Daka (J. Carrol Naish), a Japanese spymaster (who's also sometimes referred to as a prince). Daka has a number of scientific devices at his disposal designed to aid Japan's victory against the Allies, including a device that can brainwash men into mindless zombies. One of his newest zombie minions is Martin Warren, uncle of Linda Page (Shirley Patterson), Bruce Wayne's girlfriend (just as she was in the comics at the time). When Warren is abducted by Daka's men upon his release from jail, Linda asks Bruce for help. There's not much Bruce Wayne can do, but as Batman, he constantly thwarts Daka's various criminal schemes (mostly involving stealing radium to power a weapon he's stolen) and escapes from one perilous deathtrap after another. (A couple of chapters feature Charles Middleton, Flash Gordon's Emperor Ming the Merciless, as a radium mine owner targeted by Dr. Daka.)
...