Blogs
TGWTG's Community Blogs.
Bruce Lee month continues here on the INCspotlight with one of the most iconic martial arts movies ever made (and considered by many to be Bruce's best), Fist of Fury!
(Oh, and if any of my Asia Through Film students are reading this, yes, you can use this blog post as a source if you're using Fist of Fury for your project. Just remember to cite it properly!)

Fist of Fury is very loosely based on true events. In the early 1900s, after one crushing defeat after another at the hands of Western nations in the Opium Wars and the Boxer Rebellion, Chinese morale got a boost courtesy of martial arts master Huo Yuan-jia (Fok Yuun-gap in Cantonese), whose victories over Western boxers and fighters made him a folk hero. He founded the Ching Woo Athletics Association, which still exists today, and died under mysterious circumstances in 1910. Rumor had it that he had been poisoned by his Japanese doctor, although this has never been confirmed (the Ching Woo website perpetuates this claim). There have been several movies about Huo, such as Legend of a Fighter (1982), starring Leung Kar-yan, and Fearless (2006), starring Jet Li. However, Huo's premature and mysterious death has been more of an inspiration to Hong Kong filmmakers than any aspect of his life. Bruce Lee's character in Fist of Fury is based on one of Huo's real life students, Li Shen-zheng (who is a briefly-appearing character in the final scenes of Fearless).
The movie opens with Chen Zhen (Bruce Lee) returning to Shanghai (the movie never explains from where) and the Ching Woo school just in time for Huo's funeral, driving Chen berserk with sorrow and grief. Days later, Huo's memorial service is crashed by a group of Japanese fighters from the Hongkuo Dojo, and their interpreter Mr. Wu (Wei Ping-ao). They've come to pick a fight, and Chen is happy to oblige, but his seniors forbid it, telling him Huo wouldn't want him brawling with another school. The Japanese depart, leaving behind a sign saying "Sick Men of Asia." Chen goes to the dojo to return the sign, as well as to single-handedly demolish each and every one of the students and instructors in a spectacular martial arts battle.

In retaliation, the dojo's master, Hiroshi Suzuki (Rikki Hashimoto) orders an all-out attack on Ching Woo (which occurs while Chen is on a stroll in a park in another iconic scene). After brutalizing the students and causing all sorts of mayhem, the Japanese demand that Chen give himself up. Rather than turn him over, Chen's classmates persuade him to leave Shanghai. The night before he leaves, however, Chen discovers that two employees of the Ching Woo school are Japanese, and they poisoned Huo on Suzuki's orders. A furious Chen kills them and sets out to avenge his master. After adopting a number of disguises to infiltrate the dojo and get a lay of the land, he returns for a final battle with Suzuki and his henchmen, including the super-strong Russian fighter Petrov (Robert Baker - dubbed by Bruce Lee himself in the Chinese language tracks).


If the fans loved Bruce Lee after The Big Boss's release, they friggin' idolized him after Fist of Fury's, and it's not hard to see why. As Chen Zhen, Lee was the ultimate Chinese superhero defending his country against foreign invaders. One of the movie's most popular scenes is when Chen passes by a park with a sign saying "No dogs or Chinese allowed" (such signs really did exist in China at the time this film took place). When Lee insists on entering and is mocked for it by Japanese patrons (one of whom is played by Yuen Wah, Lee's own stunt double), he beats them down, kicks the sign off the wall, and shatters it with a leaping kick in mid-air. Reportedly, audiences stood up and cheered at this scene.

Chinese and Hong Kong martial arts cinema has frequently featured themes of nationalism and cultural pride in the face of foreign invasion. The flip side of this nationalist theme is the negative portrayal of the Japanese. Throughout the 1970s, if there was a Japanese character in a martial arts film, he or she was an evil one-dimensional villain (keep in mind this was about 25-30 years after World War II - I'm not saying that makes it right, but it's important to understand context). The only martial arts film from this time I can think of that breaks from this trend is Lau Kar-leung's Heroes of the East (1978), and I'll get around to reviewing that one eventually.
Fist of Fury definitely does not break from said trend. The Japanese villains of this movie are cardboard cutout mustache-twisting villains without mercy or honor. They crash a funeral, stomp on an injured student protecting Huo's portrait with his body, and poison Huo because...um...actually, we never get an answer why Suzuki ordered Huo's death. At first I used to think this was a careless omission or bad screenwriting, but as I saw more martial arts films from this time period and the way Japanese characters were vilified, I started wondering whether it was intentional. Did director Lo Wei (who wrote the script) feel that no explanation was required because he felt "that's just what the Japanese do"? Then again, Lo never seems to care much for character or story development in his movies, so maybe it was just lazy screenwriting.


As a martial arts film, this is a huge improvement over Lee's previous movie, The Big Boss. Although Han Ying-jie was officially brought back as the fight choreographer, Lee was in complete control of his own fights. According to one stuntman, it was the first time Bruce Lee was truly allowed to be Bruce Lee on screen. While he doesn't have that many fights in this film, what we get is awesome, especially his first battle at the Hongkuo dojo. Every remake and spin-off of Fist of Fury has tried to recreate, mimic, or pay homage to this fight with varying degrees of success. Bruce's other fight scenes are good, especially his fight with Petrov, but don't quite measure up to the opening fight. (Fun fact: Jackie Chan stunt-doubled for Rikki Hashimoto during the final battle, and you can also see him as a Ching Woo student during a training scene.) Han Ying-jie choreographed the fight scenes that didn't involve Bruce Lee, and they lack any of the energy and ferocity of Bruce's battles. (It may not be all that surprising, given that few actors were at Lee's level, but still, it's a jarring comparison.)

Cinematically, Fist of Fury is still a mixed bag, particularly when it comes to pacing - the same problem The Big Boss suffers from (not coincidentally, they had the same director). The first half of the film is pretty good, but once Lee discovers the truth about Huo's death, the rest of the movie drags painfully until the big finale. Lee, as usual, is the most interesting part of the movie, whether he's fighting, brooding, raging, or having a tender moment with fellow student Yuan Le-ehr (Nora Miao). He even gets to show off his comedic chops when he's in one of his disguises. As in The Big Boss, however, the scenes without Bruce Lee are tedious and boring to sit through, and there are a number of these in the middle of the movie (Lee sometimes feels like a supporting character in his own movies). I commented last week on Lo's shortcomings as a director, and while Fist of Fury shows a lot of improvement, many of the same flaws are still present. (Not helping matters was the fact that Lo and Lee really did not get along with each other. Lo claimed he'd been the one who taught Lee how to fight, and later falsely accused Lee of threatening to kill him.)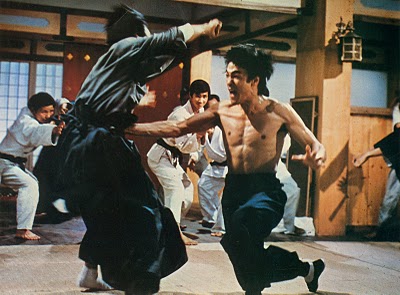 Fist of Fury's popularity spawned endless remakes and unofficial sequels, involving some of the biggest names in Hong Kong action cinema. Jackie Chan's first movie with Lo Wei productions was starring in New Fist of Fury (1976), the official sequel to this film (and widely considered to be a disaster). Jet Li was inspired by Fist of Fury to become an actor, and his 1994 remake, Fist of Legend (which he produced) is considered one of his most popular films by fans. Donnie Yen was the star and action choreographer for a Fist of Fury television series (1995), chronicling the events that lead up to the movie. He returned to the role in Legend of the Fist: The Return of Chen Zhen (2010). And then, of course, were the Bruceploitation films that tried cashing in on Lee's legacy after his death, a number of which were unofficial sequels or just straight-out ripoffs of this film.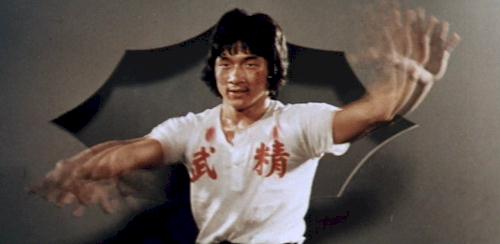 Fist of Fury is not only a milestone of martial arts cinema, but an excellent display of a master in his prime and an interesting example of the nationalism that is prevalent in numerous martial arts movies. It's definitely worth seeing.
...